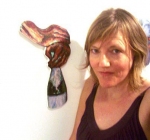 BIO
Upcoming! World Traveler / Shelter at Home painting project is traveling to the Susquehanna Museum in 2022!
World Traveler / Shelter at Home | Susquehanna Art Museum

Diana Jensen was born on an American military base in Frankfurt, Germany and raised in Baton Rouge, LA.
Diana studied with Ed Paschke at Northwestern University. After receiving her MFA and attending Skowhegan, she moved to New York City where she is now lives and works.
As a child she prowled though the thrift stores, flea markets and junk yards of southern Louisiana, with her dad (a collector of unusual castoffs) looking for interesting items, ephemera and relics of the past.
Currently she makes paintings and installations that reference vernacular photography from the 1970s to the present day. Influences include Americana, New Orleans/Chicago figuration and outsider art.
Jensen's recent solo exhibiton, "A Decade in Dumbo: 4 Installations" was featured at Chashama Space @ One Brooklyn Bridge Park. Her paintings have been exhibited widely including such venues as: The Visual Art's Center of New Jersey; Temporare Kunsthalle Friedrichshain, Berlin; Heskin Contemporary, NYC; Korjaamo Galleria, Helsinki, Finland; SafeTGallery, Brooklyn; White Columns, NYC; Bucheon Gallery, San Francisco; Artemisia Gallery, Chicago; The Newark Museum; The Islip Art Museum; and the Galleria Belykis Ayon en el Centro de Artes Experimentales in Havana, Cuba.
CV pdf is attached